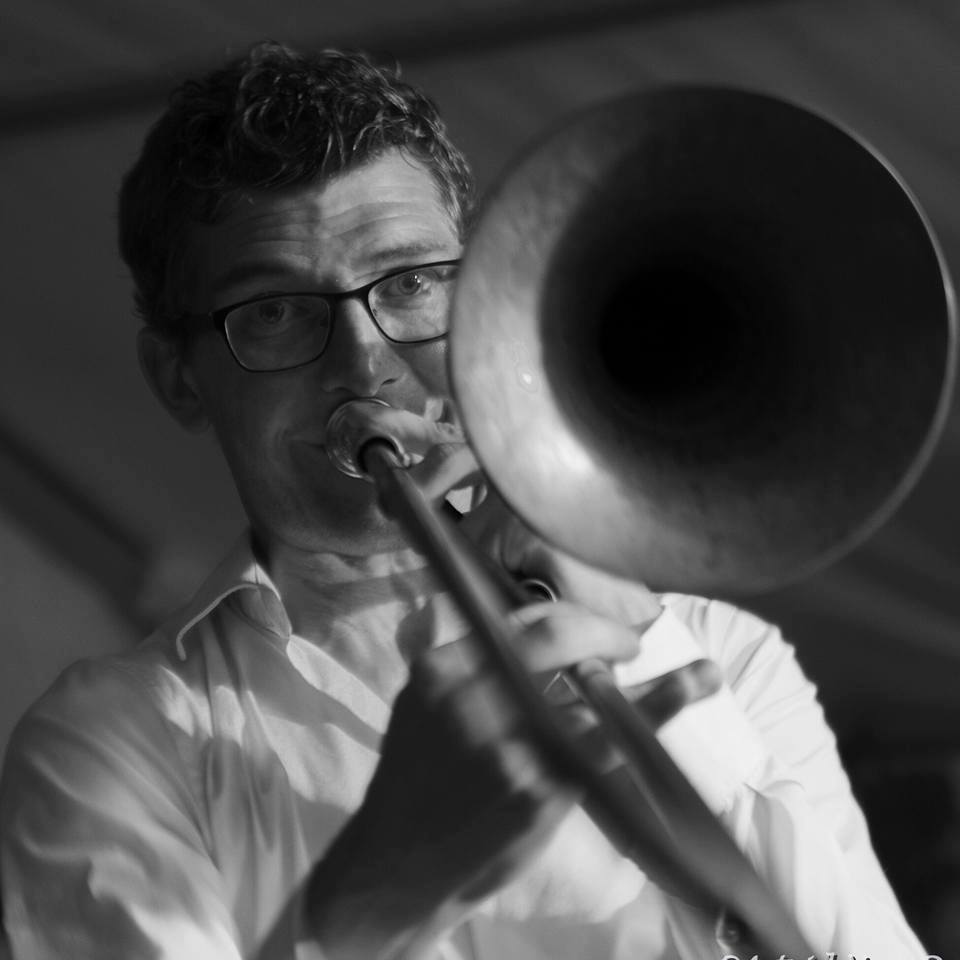 Samuel began inside the world of music age 5 and took up the trombone by the age of 8. 
After obtaining his First Prize of classical trombone at the Conservatoire de Tourcoing (France), he received his First Prize for further training at the National Conservatory of the Region Of Paris in the class of Jacques Mauger. 
He finished his studies with a degree in Jazz from the Royal Conservatory of Brussels with the professor Phil Abraham. 
For more than 10 years Samuel has taught trombone and jazz in several schools in the north of France. In addition to his pedagogical activity, he has performed in numerous formations of different styles from classical to jazz, funk, soul, salsa, etc. 
He has had the opportunity to play with artists like Phil Abraham, Frank Tortiller, the band Magma, Napoléon Murphy Brook (Frank Zappa Band) and the renowned bands "The Temptations" and "The Four Tops", among others. 
Last year he moved to Barcelona where he is developing new musical projects, especially focusing on a jazz trio (Samuel Marthe Trio) , the band Tom Savage Gumbo Combo and join other bands like Mambo Jambo Arkestra, Django Orchestra, Domino Swing Septet, Swing Shot …
The Samuel Marthe Trio is an encounter of three talented musicians coming from different backgrounds but united for the same passion, Jazz. Samuel Marthe's (France) trombone combines perfectly with the guitar of David Mitchell (US) and the double bass of Queralt Camps (Catalonia/Spain) offering an intimate but energetic sound. Their immense musical experience translates into classy interpretations of 20' Old School, 30's and 40's BeBop. To be consumed without moderation!
Tom Savage Gumbo Combo is an original combo born out of the vibrant music and social scene of Barcelona. An Englishman, Tom Savage, a young artist who has quickly demonstrated his talent in Spain. Distinguished by his warm voice, and accompanied by his guitar picking and energetic rhythm, Tom gives the audience an eclectic musical journey with his blues, jazz, folk and country repertoire. He is accompanied by two talented French musicians: Saxophonist Arnaud Desprez with his influences in bebop and rythm n'blues. And trombonist Samuel Marthe, a reference in the New Orleans / Groove universe give a unique touch to the band. With a drummer and a doublebass player, this "Gumbo" of cultures and styles offers us an unexpected and surprising result in which the different cultures of North American music are mixed with authenticity and elegance. To consume without moderation!
Livery Stable Jazz Band & Myriam Swanson
The surprising Myriam Swanson articulates this exceptional band that was born on the occasion of the centenary of the first jazz recording on February 26, 1917. It is precisely the theme of that disc of the Original Dixieland Jass Band, "Livery Stable Blues", which gives its name to the formation. Fact that finds its own mythology in the world of traditional jazz. A celebration that should not be missed.
DOMINO SWING is an international jazz quartet composed of two guitars, double bass and violin.
The project was born in Barcelona in 2014, inspired by the "gypsy" or "manouche" jazz of the 30's, in an acoustic format and from a contemporary perspective, fusing four different musical and cultural "paths".
In 2018 the quartet begins a new project in the form of a septet, adding to its usual formation a section of winds: trumpet, saxophone and trombone.
For this new formation, DOMINO SEPTET has written and recorded 11 original compositions at ESTUDIO FEELBACK (BCN).
Jinx Jazz Band is a traditional jazz band created 14 years ago by a few musicians from several countries, who decided to play the musical style they like the most: the New Orleans jazz.
This band started to perform in Barcelona, and chose streets of the city as the stage for its music.
Nevertheless, over the years this has been consolidated in the traditional jazz outlook, playing at the best events and festivals of this music genre, both in Catalunya and in Spain and also abroad.
The performance of Jinx Jazz Band guarantees a nice atmosphere, very stylish but relaxed at the same time.
Tribute Fred Wesley
Trio Trombon, Organ, Drums
Caspar St Charles : drums
Abel Boquera : organ
The Easy living jazz band  recreates the top classic jazz music. The band is inspired in the music that was born in the cradle of the Mississippi and in New Orleans in the 1920s, and its subsequent evolution and peak with the great swing orchestras of the 30s and 40s.
A humble and small format allows us to transfer our offer to many more spaces, recreating the atmosphere that could be experienced in clubs and jazz halls.
We are used to accompanying parties for dancers, and because of our relationship with the dance school "Swing Maniacs", we incorporate performances with professional dancers to our offer, as well as open lessons to all audiences and for all ages.
The Headshakers (France)
Tribute Frank Zappa